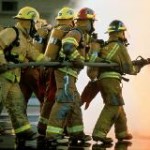 Fire involving a semi-tractor trailer on I-70 caused some problems Monday. The semi was loaded with 34 large round bales of hay, which were destroyed in the blaze. The driver was able to turn off onto Deep Creek Road exit in Geary county.
firefighters from both Riley and Geary counties spent five hours putting out the fire, with 11 people from four stations in Riley county responding. Riley county fire chief Pat Collins tells KMAN more than 24,000 gallons of water were hauled from Manhattan to control the fire. The trailer also sustained damage, but the 1995 Kenworth semi-tractor portion was saved. There were no injuries.
The semi and trailer belong to Rueben Zoeller farms in Mayetta.