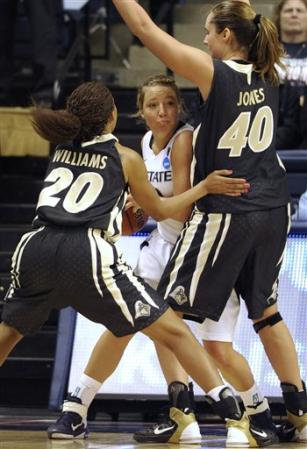 CANCUN, Mexico – Kansas State used the momentum of a late first half run to capture a five-point lead in the second half, but No. 15/17 Purdue clawed its way back into the contest to force overtime and hold on for a 46-42 win on Friday night in the 2011 Cancun Challenge.
K-State (3-2) was paced by the tandem of Jalana Childs and Brittany Chambers. Childs recorded a career-high 23 points, which came a day after she tallied her third career double-double with 20 points and 11 rebounds against Hofstra.
Chambers notched 10 points, 11 rebounds, three assists and two steals. This was Chambers' fifth career double-double and her second against Purdue, as she tallied 18 points and 12 rebounds against the Boilermakers in last season's NCAA Tournament contest.
Purdue (6-0), playing its fourth game in six days, was led by Brittany Rayburn with 16 points on 3-of-14 shooting, but was able to convert 8-of-11 from the foul line. Joining Rayburn in twin figures was KK Houser with 11.
After a sluggish start to the first half for both teams, Purdue was able to secure a 10-point lead, 19-9, with 6:30 to play. The Wildcats were able to jump start their offense with consecutive three-point field goals from Chambers and Dickey. K-State closed the stanza on a 13-5 run to trail 24-21 at the break.
The Wildcats were paced in the first half by Childs with 11 points. K-State also received five points, seven rebounds, three assists and two steals from Chambers in the half.
The Wildcats captured their first lead since early in the first half, 30-29, on a jump hook in the lane by Childs with 14:50 to play in regulation. K-State would extend the advantage to five, 34-29, on a Mariah White steal and fullcourt drive for a layup which forced a Purdue timeout.
The Boilermakers, who were held without a point for eight and a half minutes of the second half, were able to hold the Wildcats to just six points over the final seven minutes of regulation and use an 11-6 run to close out the second stanza.
Purdue secured the win in overtime with four free throws after the teams traded baskets. The Boilermakers were 17-of-22 from the foul line in the game, while K-State was just 1-of-5 from the charity stripe. The Wildcats won the turnover battle, 21-14, which included 11 steals.
This was just the second time in the last 65 such games that K-State has lost when holding an opponent to fewer than 49 points, 63-2.
K-State will return to action on Dec. 3, as the Wildcats host Iowa at 7 p.m., for the Big 12/Big Ten Challenge.