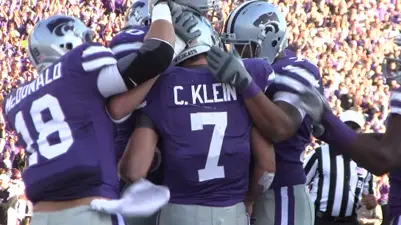 Freel video wrap-up with game highlights, interviews, and analysis available at TheGamedayNetwork.com
It was a game for the ages in more ways than one Saturday at Bill Snyder Family Stadium.  It's hard to believe this but in the decade and a half since the NCAA instituted overtime in Division I College Football, Kansas State had played just one game which required more than 60 minutes to determine the final outcome.  That one game was one of the most heartbreaking if not the most heartbreaking ever for Wildcat fans, a 36-33 double-overtime loss to Texas A&M in the 1998 Big 12 Championship Game, which kept K-State from playing for a National Championship.
So how ironic was it that the first overtime game for the Wildcats since that difficult night in St. Louis once again saw the Aggies as the opponent.  K-State rallied from a 31-21 defecit in the final six minutes of regulation and then outscored A&M in not one, not two, not three but four overtimes to snag a 53-50 victory.  Quarterback Collin Klein rushed for the final two of his 103 yards and school record-tying fifth touchdown of the game in the fourth extra stanza to help K-State snap a two-game losing streak and secure their eighth win of the season, their highest win total since the 2003 Big 12 Championship campaign.
Klein passed for 281 yards and one touchdown, a 53-yard scoring strike to Chris Harper with under six minutes remaining in the fourth quarter to begin the final comeback.  Klein also scored on runs of two, three, two and 25 yards to become the second Wildcat Quarterback to score five rushing touchdowns in a single game, tying Johnathon Beasley's mark first set against North Texas on September 23, 2000.  Klein also shattered the single-season record for most rushing touchdowns scored by a K-State signal caller.
Saturday's game marked the Wildcats' first-ever overtime victory in the first overtime game played in the 44-year history of Bill Snyder Family Stadium which also saw its longest game both by time (four hours and seven minutes) and by periods (eight).  K-State also gave up the most points in school history in a single game that they still managed to win.  Be sure to check throughout the day on Sunday for a complete video wrap-up of Saturday's dramatic victory at www.thegamedaynetwork.com