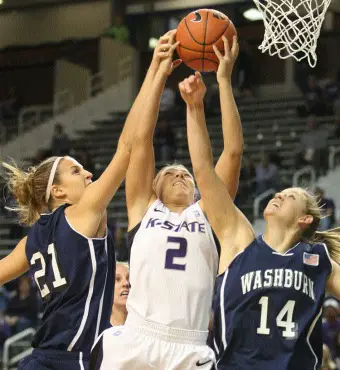 Brittanny Chambers scored 22 points and Jalana Childs added 15 as the K-State women rallied past Washburn 52-50 in exhibition basketball at Bramlage Coliseum.  The Cats trailed by five with four minutes to go, but Chambers tied the game with a three pointer with 44 seconds left.  Chambers then hit Branshea Brown for the game-winning layup with three seconds to go.
The Cats led by six early in the second half, but a 14-2 run by Washburn gave the Lady Blues a 38-32 lead with 12:49 left.  Washburn didn't trail again until Brown's layup in the closing moments.  Stevi Schultz led the Lady Blues with 15 points.
The K-State women open the regular season on Saturday night against Dartmouth at 8:00pm at Bramlage Coliseum.  Coverage begins on KMAN at 7:30 from the K-State Sports Network.