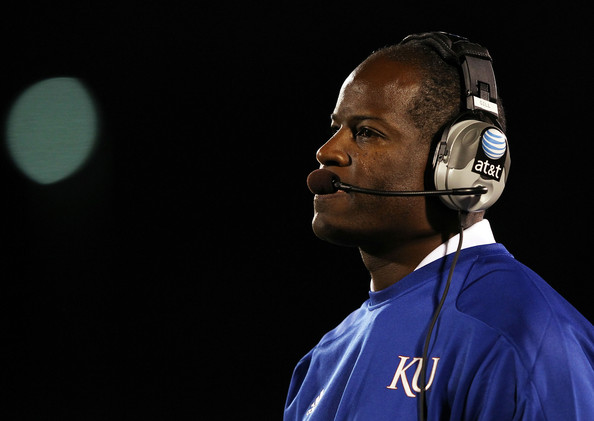 KANSAS CITY, Mo. (AP)   Turner Gill arrived at Kansas after taking a perennially downtrodden program at Buffalo to unimaginable heights.  He's leaving after a two-year stretch in which the Jayhawks slipped back to their familiar place in the Big 12 cellar.
Gill was fired Sunday after a meeting with Athletic Director Sheahon Zenger, one day after the Jayhawks lost 24-10 to rival Missouri and finished the season 2-10.
"After a thorough evaluation of our football program, I have concluded that new leadership is necessary to place us on the path toward competing for championships in the Big 12 Conference," Zenger said in a statement.  "I come to this conclusion reluctantly, because I have the utmost respect for Turner Gill as a quality individual who wants only the best for the young men he coaches."
Gill was hired by Zenger's predecessor, Lew Perkins, and given a five-year, $10 million contract that was befitting of a high-profile coach.  But he never lived up to the expectations that came with it, losing the first game he coached at Kansas to lower-division North Dakota State.
The high-water mark came in Gill's second game, when the Jayhawks stunned then-No. 15 Georgia Tech last season.  But that was the only victory over a ranked team, and Kansas would lose 17 of the next 21 with Gill on the sideline, the lone conference win coming against a Colorado program that fired its coach immediately after the defeat.
Fielding one of the youngest teams in the Big 12, Gill got the Jayhawks off to a promising start with wins over McNeese State and Northern Illinois, which has gone on to finish 9-3 and will play Ohio for the Mid-American Conference championship on Friday.
But things unraveled quickly in a 66-24 defeat at Georgia Tech, the start of 10 consecutive losses that included some of the most embarrassing in the history of a program accustomed to losing.
The Jayhawks were routed 70-28 by Oklahoma State, which pulled most of its starters at halftime, and 43-0 at Texas, when they managed 46 yards of total offense.  They blew a 24-3 fourth-quarter lead against Baylor, allowed Texas A&M to score 61 points in just three quarters, and blew a 10-0 first-half lead against Missouri in what could be the final game of their 120-year-old rivalry.
Gill, a former star quarterback at Nebraska, said afterward that he expected to be back for a third season, which is how long it took him to turn the program at Buffalo into a winner.
"I do think we made good progress," he said.  "I guess it may be we have more to go than we anticipated, including myself coming in.  I just think we can still get some things done here and move this program the right direction and do the things we need to do, win games and win bowl games."
It'll be up to someone else to accomplish those goals.
Zenger said that Kansas will honor Gill's contract, which still owes him about $6 million.  The search for a replacement will begin immediately, while running backs coach Reggie Mitchell, who also served as Gill's recruiting coordinator, will take over on an interim basis.
"I have no specific timetable," Zenger said.  "Naturally I would like to have a new coach on board as soon as possible."
There is expected to be a broad pool of candidates.  Former Texas Tech coach Mike Leach and former South Florida coach Jim Leavitt both have ties to the Big 12, and Southern Miss coach Larry Fedora and Houston coach Kevin Sumlin have taken mid-major programs to national prestige.
Whoever is chosen will take over a program that went 12-1 and won the Orange Bowl in 2007, and finished the season ranked No. 7 in the AP poll.  But he'll also take over a program that, like those at North Carolina and Duke, resides firmly in the shadow of the school's basketball program.
Kansas returns most of its playmakers next season, which should help to jumpstart the rebuilding.  Sophomore quarterback Jordan Webb had a few bright moments in his first season as the starter, sophomore running back James Sims and freshman Tony Pierson carried much of the load on offense, and junior Toben Opurum emerged as one of the defense's brightest stars in just his second season since switching from fullback to defensive end.
"We've shown glimpses this season of how much we've improved," Webb said.  "We're bringing a lot of people back, so we feel like we've got a chance to be a really good team."