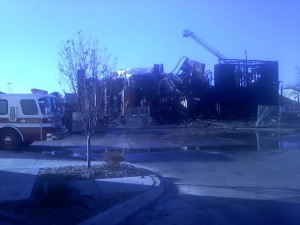 Investigators looking into the devastating fire last weekend at the Strasser Village Apartments have determined the fire was intentionally set.
Investigators with the ATF's National Response Team, working in conjunction with the ATF Kansas City field office, the Manhattan Fire Department, the RCPD, and the state Fire Marshall's office, concluded the fire originated in the northern section of the apartment complex.  They further ruled out all accidental causes, leading them to classify the fire as incendiary and intentional.
The November 6 fire caused an estimated $2.7 million in damage to the luxury apartment complex. Total damage estimates to nearby businesses remain undetermined at this time but could exceed $2 million.
Specific information regarding the fire and investigative efforts will not be released at this time as the criminal investigation continues.  Anyone with information about the fire should call the Riley County Police Crime Stoppers at 785-539-7777 or toll free at 1-800-222-TIPS (8477) or ATF at 1-888-ATF-FIRE.