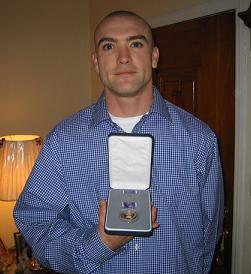 A Manhattan man has been bound over in Riley County district court on a second degree murder charge, in connection with the  beating death of an Army veteran this past August.
Justin Taylor, 24,  is set for a November 14 arraignment following Thursday's preliminary hearing. Taylor was arrested in connection with the August 11th death of Kevin Cockrum, 31.
During the hearing, coroner Dr. Erik Mitchell took the stand, as well as Levertis Horne,20,  also of Manhattan, who was with Taylor the night of death. Horne alleges he struck Cockrum once after he was grazed in the arm by a flashlight Cockrum was weilding and then swung at by Cockrum.
He then states Cockrum fell to the ground unconscious, at which time Taylor reportedly struck him a couple more times with that same flashlight. Horne maintains he told Taylor, in his words, "Stop, you're gonna kill him."
Mitchell confirmed Cockrum died as a result of multiple blows. He also indicated Cockrum's blood alcohol level was .184, well over the legal limit of .08. While Mitchell said while that could have been a contributing factor, that he wouldn't die from that level of alcohol.