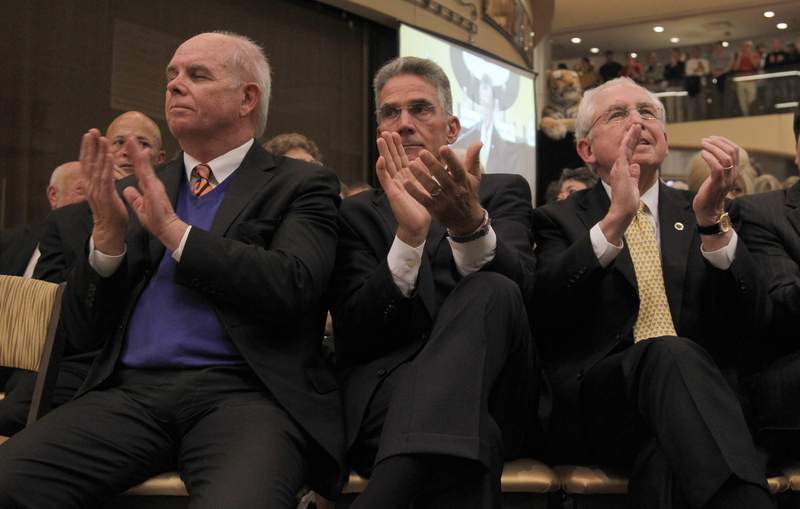 COLUMBIA, Mo. (AP)   Bye-bye Big 12, hello SEC.
After weeks of private flirtations and the college sports' equivalent of prenuptial negotiations with their respective lawyers, Missouri and the Southeastern Conference took their mutual attraction public Sunday
First the SEC released a statement welcoming Missouri as its newest member. Later there was a campus pep rally in Columbia, replete with a new SEC banner, the school's marching band and exploding confetti.
Missouri will join the league effective July 1, 2012 by unanimous agreement of the SEC's presidents and chancellors, including Bernie Machen of Florida, who joined Slive at Sunday's announcement in Columbia.
Missouri will be leaving the Big 12, a conference it has been a part of since 1907, including its days as the Big Eight and earlier incarnations such as the Big Six.
The school could also face the end of annual athletic contests with neighboring Big 12 survivor Kansas, a rivalry with roots in the Civil War. The teams first met on the football field in 1891, the sport's oldest traditional matchup west of the Mississippi River. Their college basketball battles also began in the 19th century.
The Big 12's uncertain future drove the move, said Missouri Chancellor Brady Deaton, who until last month was the conference's board chairman   and public face of the league's fight for survival after losing Nebraska (Big Ten) and Colorado (Pac-12) last year and later Texas A&M, which will join Missouri next year in a 14-team SEC.
"We were looking for long-term stability as a university and who we were associated with, who we're going to develop long-term partnerships with, where we could have financial security," said Deaton, who cited "continuing instability in the conference we were in" while avoiding any mention of the Big 12 by name.
The announcement came as no surprise after Missouri's governing board gave Deaton the permission to change leagues in early October and then granted him broad authority two weeks later to negotiate directly with the SEC.
From that point on, it seemed only a matter of time before the Tigers said goodbye to the Big 12   especially after an SEC vendor mistakenly posted a congratulatory press release on the conference website that welcomed Missouri. The premature announcement was hastily removed.
The delay was likely to due to concerns over the timing of Missouri's departure as well as the amount of the financial penalty the school must pay the Big 12 for breaking its contract. A confidential report provided to The Associated Press suggested the school could owe the Big 12 as much as $26 million, though both Nebraska and Colorado negotiated significantly lower exit fees than what they were legally obligated to return.
Deaton said Missouri and the Big 12 have not determined amounts but that all such costs will be covered by the school, without help from its new conference.
The Big 12 first needed to have a replacement for Missouri lined up, because the conference needs 10 schools to fulfill its TV contracts. The conference took care of that and bid farewell to Missouri 10 days ago, when it invited West Virginia from the Big East to join. The league did not even list Missouri among the schools it anticipated would be competing in the Big 12 next year. Texas Christian   which had pledged a move to the Big East   will instead join the Big 12, effectively taking the place of Texas A&M.
"The decision by the University of Missouri to leave the Big 12 Conference is disappointing," interim Big 12 Commissioner Chuck Neinas said in a statement Sunday. "I personally believe this decision is a mistake and that Missouri is a better fit in the Big 12."
Despite what the SEC and Big 12 plan, the Big East could will have a say in when Missouri and West Virginia will be allowed to start competing in their new conference homes.
Big East Commissioner John Marinatto has been adamant about enforcing the league's 27-month notification period and holding West Virginia in the conference for the next two years. West Virginia recently filed a lawsuit challenging that rule and the Big East countered with a lawsuit asking the courts to make the school abide by its contract.
The Big East is in rebuilding mode now and is expected to start adding new members in the next few days. The league last week approved inviting Boise State, Navy and Air Force for football only and SMU, Houston and Central Florida for all sports.
Its goal is to form a 12-team football league, but even if all the schools it is targeting accept invitations, there are various hurdles that would have to be cleared   including waiting periods and exit fees   to have them in the Big East by 2012. So it's possible Missouri could be stuck in the Big 12 until West Virginia can depart from the Big East.
Deaton said he doesn't expect the legal dispute between West Virginia and the Big East to derail Missouri's plans for a quick exit, alluding to "assurances" that the Big 12 won't try to block an imminent Missouri move.
"While there's ongoing work to be done, we are confident that we will be able to successfully erase any concerns about those issues," he said.
Missouri will compete in the SEC's East division, according to Slive, though a cross-division rival in the conference's West division hasn't yet been chosen. The other East schools are Florida, Georgia, Kentucky, South Carolina, Tennessee and Vanderbilt
News of Missouri's move wasn't received very well in Kansas, which released a statement by Deaton's counterpart decrying the "century-old conference rivalry('s) end." Like her men's basketball coach Bill Self, Kansas chancellor Bernadette Gray-Little suggested the Jayhawks' disappointment   and Missouri's unspoken betrayal   could scuttle the border showdowns.
"Missouri's decision may have implications for fans and for the Kansas City area, but it won't affect the long-term strength of the Big 12," she said.
Missouri athletic director Mike Alden, by contrast, spoke of his school's "tremendous amount of respect for the University of Kansas" and pledged to keep the annual rivalry alive in all sports.
A carry-over rivalry with the Aggies can only help Missouri's football recruiting efforts in Texas, which has become fertile ground for coach Gary Pinkel and his staff over the past decade.
In basketball, Arkansas will likely become Missouri's top SEC rival, with former Tigers coach Mike Anderson taking over the program this year after a successful stint in Columbia.
Vanderbilt vice chancellor David Williams, who oversees athletics, said he doesn't expect further SEC expansion for now, at least.
"I think we're set at 14," Williams said. "Our thoughts were we need to go to 14 (after adding Texas A&M) for balance and scheduling."
He also acknowledged that further changes in the conference realignment landscape could easily scuttle that prediction.
"Actions push reactions. I don't know what happens elsewhere," Williams said.