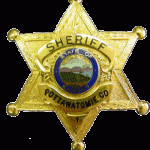 Several thefts are being investigated by the Pottawatomie County Sheriff's office. An ATV with an estimated value of $2,500 was taken from rural Wamego between October 29th and November fourth. The 2011 ATV is described as a 2009 American Sportworks Talon, red in color with black fenders accents. It was taken from the 14,000 block of Becker Road.
And taken between November second and fifth were several items from a rural Blaine residence on Reves Road. Jewelry and electronics items were taken from a residence and outbuildings, with loss estimated to be more than $1,000.
The Sheriff's department is also working with the St. Mary's police department in the investigation of the Piper-Verschelden Funeral home on West Maple. Overnight Wednesday the business was forcibly entered, with six flat screen TV's, a coffee pot, radio, and undetermined amount of cash taken. Loss and damage exceeds $1,000.
Anyone with information is asked to call the sheriff's office at 457-3353.
Pottawatomie County court was a busy place Thursday, with sentencings and a plea in different cases.  Steven Taylo, 26,  was sentenced to more than three years in prison, remanded to 39 months with the department of corrections on two counts of non-residential burglary.  Clifford Walsh, 21,  was sentenced to 36 months, but was granted probation on the same charges. The two were arrested August 31st in connection with fishing gear taken from garages or vehicles in the Pottawatomie and Riley county areas.
Also Thursday,  Richard McGill, 37,  of St. Mary's entered a plea of no contest to an amended count of possession of methamphetamine with intent to distribute. The case of his co-defendant,  Amy Griffin, 36, was continued to December 22nd. The two were arrested after a search warrant in St. Mary's in late August resulted in the seizure of meth and drug paraphernalia.