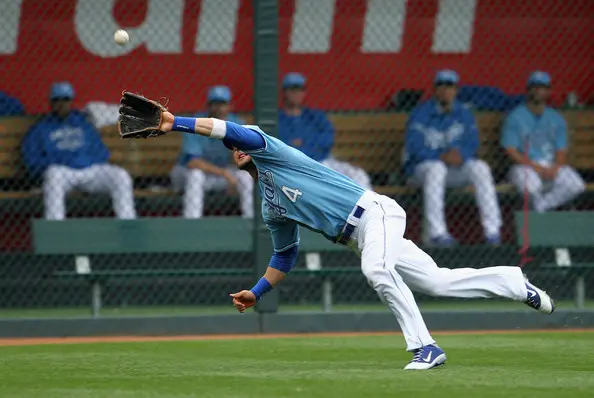 NEW YORK (AP) – Alex Gordon became the first Kansas City Royal in 11 years to win a Gold Glove, in voting by managers and coaches.  The awards were announced late Monday night by Major League Baseball and Rawlings.  Gordon, who led the AL with 20 outfield assists, was given the Gold Glove for his work in his left field.  Outfield positions were specified for the first time in the award's history.  The last Royal to win a Gold Glove was Jermaine Dye in 2000, who's also an outfielder.
Clayton Kershaw, Matt Kemp and Andre Ethier became the first trio of Los Angeles Dodgers to win NL Gold Gloves in the same year, and Adrian Gonzalez, Dustin Pedroia and Jacoby Ellsbury became the first three Red Sox in 31 seasons to win the AL honor together.
Kershaw became a first-time winner at pitcher when the awards were announced Tuesday. Ethier earned his first Gold Glove in the outfield and Kemp regained the NL award he also earned in 2009.
Gonzalez earned his first AL Gold Glove to go along with two he won in the NL while with San Diego, Pedroia won at second base for the first time since 2008 and Ellsbury picked up his first Gold Glove.