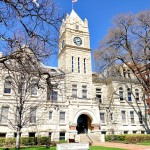 A date has been set for the sentencing in a prominent Riley county rape case. Daniel Brewer, who pleaded no contest to a rape charge and guilty to another charge in connection with rapes in Ogden in 1981, will be sentenced December 19th at 3:45. Judge David Stutzman's office announced the date Friday morning.
One of the cases, the one which Brewer pleaded guilty to, involved a 75-year-old Ogden woman, which received a lot of attention with the wrongful conviction of Fort Riley Soldier Eddie Lowery.
Brewer entered into a plea bargain in July, presented by the Kansas Attorney General's office. The plea agreement permitted Brewer 60 days of freedom on his own recognizance bond.