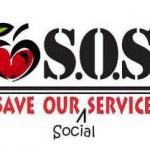 A group calling itself  "Save our Social Services" or "SOS" has started collecting signatures on a petition to force action on an ordinance designed to protect social services funding. The proposed ordinance would require the city to spend two percent of the general fund budget for social services each year as it has in the past. In addition, allocation for social service agencies would be determined through the longstanding Social Services Advisory Board.
SOS needs signatures from 1,494 registered Manhattan voters to force action on the ordinance. Once signatures are validated, the city commission would have 20 days to either adopt the ordinance or put it to a public vote.
Co-Chair of the group, Geri Simon, says there are 10 agencies that benefit from city funding, including:
·        Big Brothers/Big Sisters
·        Boys & Girls Club
·        The Crisis Center
·        Homecare & Hospice
·        Sunflower CASA
·        The Manhattan Emergency Shelter
·        Kansas Legal Services
·        Shepherd's Crossing
·        KSU Child Development Center
·        UFM Community Learning Center
Simon says combined, the 10 agencies receive around $300,000  from the City of Manhattan.
If you would like to learn more about the SOS movement, you can log onto their facebook page at S.O.S.(Save Our Social Services)/Facebook.