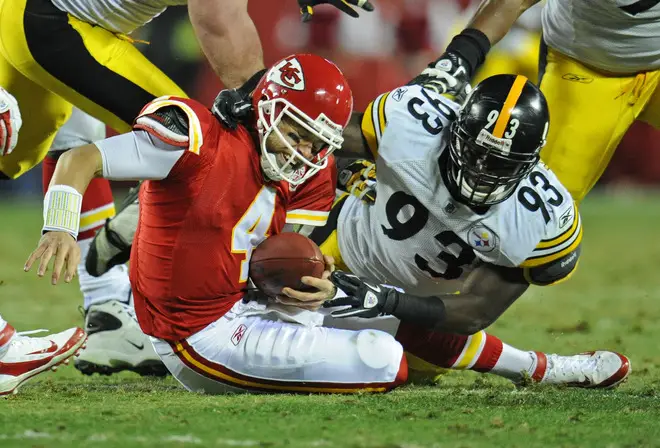 KANSAS CITY, Mo. (AP) Ben Roethlisberger threw a short touchdown pass to Weslye Saunders and the Pittsburgh Steelers took advantage of four turnovers by Tyler Palko to beat the Kansas City Chiefs 13-9 on Sunday night.  Playing with a broken thumb on his throwing hand, Roethlisberger was 21 of 31 for 193 yards and an interception for the Steelers (8-3), whose defense lost All-Pro safety Troy Polamalu to an injury in the first quarter yet still kept the bumbling Chiefs (4-7) from scoring a touchdown.
Kansas City hasn't reached the end zone since the third quarter against Denver three weeks ago, a span of 45 offensive drives including the final one Sunday night.  The Chiefs marched across midfield to the Pittsburgh 37 when Palko dropped back to pass.  He was looking for Dwayne Bowe but threw it high and behind him, and Keenan Lewis hauled in the interception with 29 seconds left to seal the game and keep Pittsburgh tied atop the AFC North with Baltimore.
The Chiefs (4-7) will head to Chicago this Sunday at noon while looking to break a four-game losing streak.  To hear from KC coach Todd Haley and selected players, tune into Chiefs Kingdom on Monday night at 8:00pm on SportsRadio 1350 KMAN.