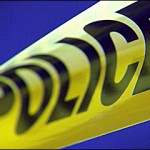 A joyride Friday ended with an Ogden woman's truck in the public bathrooms near Saddlehorn Trail.
RCPD Captain Richard Fink tells KMAN the 2003 Ford F-150 belonging to Amber Clark, 23, was taken from her residence on 7th Street in Ogden sometime between 6 p.m. and 7 p.m.  Friday evening.
The truck was later discovered at the parking lot near Saddlehorn Trail, where Fink says the gas pedal had been wedged down, causing the un-manned vehicle to run into the public bathrooms.
Damage to the truck is estimated at around $11,000. The bathrooms suffered nearly $1,000  in damage.
RCPD currently have no suspects.