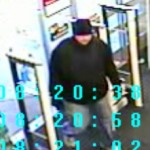 Riley County Police were on the scene of a robbery at the Walgreens location at 325 Bluemont Monday morning.
RCPD Lt. Richard Fink says few details are known at this point, including the method the suspect robbed the store or even what was taken, though he did say no weapon was displayed by the suspect.
Fink says the suspect is a white male in his late 20s, standing around 6′ and weighing approximately 190 pounds.  He was reportedly wearing faded jeans, a black beanie, as well as a black jacket and black gloves.
Fink declined to speculate whether this robbery was connected to a robbery last week at the Kansas State Bank branch Downtown Manhattan committed by a similarly dressed individual. That robbery bore similarities to a third robbery Oct. 4 at the Community First National Bank near Downtown Manhattan.
The Kansas State Bank robbery has been turned over to the FBI for investigation.