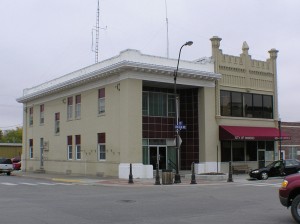 Wamego's City employees won't see much of an increase in their health benefits come 2012
City Manager Merl Page reported to city commissioners Tuesday,  the average increase to the health insurance premiums in the new agreement is .75%, which Page said is basically flat-lined.
The Commission approved the renewal and Page said they will leave the employee participation at the same level as last year.
Elsewhere, the Commission approved the request to vacate the easement behind and East of Dymax, Inc. after no objections came out of the public hearing, and the staff recommended the change contingent on one call to a utility.
The Commission approved a text amendment ordinance making it unlawful for anyone to fasten, paste, place, post, paint or attach in any way any sign, handbill, poster or advertisement to any public pole, tree or bridge.
Page concluded the meeting with the October county-wide sales tax numbers up 9.4% and local sales tax numbers up 4.25% for the same period of time a year ago.