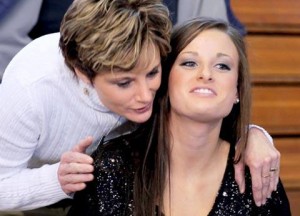 MANHATTAN, Kan. – Kansas State volleyball coach Suzie Fritz has announced the signing of one player to a National Letter of Intent for the 2012 incoming recruiting class. Katie Brand signed her letter and will join the team this fall after completing her career at Grand Island Central Catholic in Nebraska.
Brand is a 6-1 setter and helped lead her team to third place in the Nebraska Class C state tournament this season with a 30-4 record. Brand and the Crusaders won the state championship in 2010 and finished second her freshman and sophomore years as well. In the consolation match this year against Minden, Brand tallied 16 kills and three blocks.
Fritz said Brand is an exciting player that will bring athleticism to the setter position in college. She believes Brand has a strong amount of potential by making the switch full-time to the position at K-State after playing a more versatile role for her team in high school.
"We're tremendously excited about the future contribution and potential that Katie provides for us. She is a proven champion, having had great success at all levels, in multiple sports," Fritz said. "She is a tremendous person, student and athlete with a well rounded skill set and the ability to do many things well. Her coaches, who have coached many talented players, have shared with us that she's one of, if not, the best player they've ever coached which says a lot about her ability and future potential. Her versatility, size and athleticism will provide a great advantage and opportunities for her as she focuses primarily on the setting position at the college level."
Her junior season Brand was named to the All-Heartland Super Squad First Team and earned third team All-State honors. She is a multi-sport athlete for the Crusaders earning first team All-State in basketball and placing fifth or better in tennis all three years at the state tournament. Brand was named the 2011 Grand Island Independent Area Athlete of the Year.