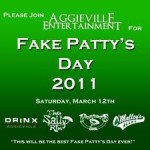 Once again Fake Patty's day found itself before Riley County Law Board members for discussion Monday, at the request of one of the board members. There's been some discussion of a special permit being sought, involving consumption of alcohol outside. There's also been talk of a possible beer garden and armbands.
Riley County Police Director Brad Schoen stressed he has concerns. Manhattan's Assistant City Manager Lauren Palmer and Board Member Jim Sherow also expressed some skepticism.
Meanwhile Riley County Police Director Brad Schoen suggests the Aggieville Business association is where the compromise needs to begin.The consensus of the board seemed to be that it's up to the Aggieville Business Association to come up with some kind of plan on the matter, if its members can agree.
Other matters dealt with by the law board members Monday were approval of a personnel policy item, approval of Reese and Novelly for RCPD's yearly audit, and discussion on the year end budget and health insurance.
It was a day of promotions for the Riley County Police department, with two announced at Monday's meeting. Lt. Richard Fink is now Captain Fink, who received the leadership award upon his graduation this past Friday from the Northwestern School of Police Staff and Command. Also promoted was Greg Steere, who is now a Lieutenant with the Riley County Police Department.
More discussion from law board meeting: