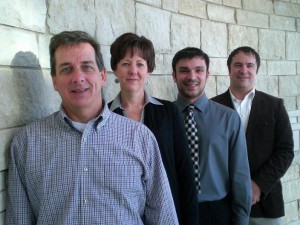 The staff of the Flint Hills Discovery Center recently double in advance of this spring's regional opening.
Melissa Kirkwood, Development officer, tells KMAN they recently hired three additional staff members; Roy Garrett, Exhibit and Operations Manager; Susan Adams, Volunteer Coordinator; and Richard Dean Prudenti, Membership/Special Events Coordinator.
"We are so excited to be adding to our team," Kirkwood said. "In addition to an old/new person."
That new/old face Kirkwood refers to is Jared Bixby, curator of education at Sunset Zoo, who was recently elevated to the same position at the Discovery Center, also.
Garrett joins the Flint Hills Discovery Center with 1 years experience at the Corpus Christi Museum of Science and History in Texas. He is an alumnus of Kansas State University.
Adams joins the Discovery Center staff after serving as the Director of Volunteer/Guest Services at Mercy Regional Health Center the last five years.
Prudenti comes to Manhattan from Rogers, Arkansas, where he worked as Executive Director of the Rogers Little Theatre.
The Flint Hills Discovery Center is slated to open in April of 2012.