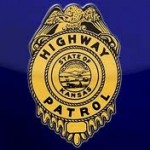 An accident in Geary county on Tuesday sent Travis Kemph, a 29-year-old Newton resident, to the hospital.
Kemph was driving a Midwest Concrete materials cement truck, when he lost control making a right hand turn to get on the westbound I-70.
According to Kansas Highway Patrol Lt. Greg Harkrader, the individual was extricated by Geary and Junction City fire officials, and was first taken to Geary Community hospital, then transported by life flight to Stormont Vail in Topeka.
Kemph is listed in critical condition.
The accident was reported a little after nine Tuesday morning.
Meanwhile, KMAN news is told Kemph's  family is setting up a trust account at Capitol Federal Savings to pay for his medical bills.  Donations may be sent to Capitol Federal Savings, Attention Travis Kemph Fund, 700 South Kansas Avenue in Topeka, 66603.