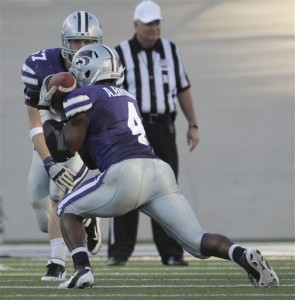 MANHATTAN, Kan. – Led by junior linebacker Arthur Brown and freshman wide receiver/kick returner Tyler Lockett, Kansas State placed 11 of its players on the 2011 All-Big 12 football teams, the conference announced Wednesday. Additionally, head coachBill Snyder was named the Big 12 Coach of the Year after picking up the same honor from the Associated Press on Tuesday.
K-State's three specialty awards are the most in school history for a single-season and were the most of any team in the conference in 2011. The Wildcats' 11 All-Big 12 selections are the most since the 2007 team had 15.
Brown was named the Big 12 Defensive Newcomer of the Year as well as earning First Team All-Big 12 honors. The Wichita, Kan., product became Kansas State's sixth Defensive Newcomer of the Year and the 11th overall Newcomer of the Year. A transfer from the University of Miami, Brown paced the Wildcats in tackles during the regular season with 95, the most by a K-State defender since 2006. He also recorded 7.5 tackles for loss and two sacks to go along with an interception and two pass breakups.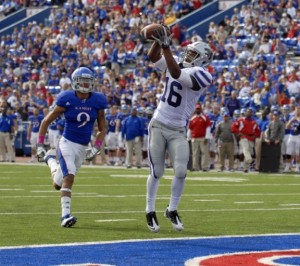 Lockett was named the Big 12 Offensive Freshman of the Year, the first time a Wildcat has earned the award. Lockett was second on the team with 18 receptions for 246 yards and three touchdowns before missing the final three games, while he rushed for 110 yards on 10 carries. A Second Team All-Big 12 selection as a kick returner, Lockett also received votes for Special Teams Player of the Year as he leads the nation in kickoff returns with a 35.2-yard average and two touchdowns.
Snyder was tabbed as the Big 12 Coach of the Year for the third time after earning the award in 1998 and 2002. Snyder's Wildcats headed into the 2011 season with nine first-year starters and were picked to finish eighth in the Big 12 preseason race before winning a nation-leading eight games this season by seven points or less and 10 games in a season for the first time since 2003. K-State finished No. 8 in the final BCS rankings, its highest finish in the poll since 2002.
Joining Brown on the first team were offensive lineman Clyde Aufner, defensive lineman Ray Kibble and defensive back Nigel Malone, the first All-Big 12 honor for all three players. Aufner, a team captain, started all 12 games at right tackle for the Wildcats, helping K-State rush for 197.7 yards per game.
Kibble, a senior who also received votes for Defensive Lineman of the Year, started all 12 games at tackle and registered 36 tackles, 4.5 tackles for loss and one sack.
A junior-college transfer, Malone started all 12 games at cornerback as he recorded seven interceptions, the second most in school history and a figure that leads the Big 12 and is tied for third in the nation heading into the bowl season. Additionally, Malone totaled 16 passes defended and was fifth on the team with 57 tackles.
Lockett was joined on the second team by offensive lineman Zach Hanson and defensive back Tysyn Hartman. Hanson played in 11 games, including 10 starts at left tackle as he helped the Wildcats rush for 197.7 yards per game and protected quarterback Collin Klein's blindside. It was the first honor of Hanson's career.
Hartman picked up All-Big 12 accolades for the second time in his career as he was an honorable mention selection in 2009. As a senior in 2011, Hartman was fourth on the team with 62 tackles and recorded three interceptions to push his career total to 10, which is tied for sixth in school history.
Leading honorable mention accolades for the Wildcats was Klein, who also received votes for Offensive Player of the Year. A dual-threat quarterback who was named All-Big 12 for the first time in his career, Klein has rushed for a K-State quarterback record 1,099 yards and a school record 26 touchdowns, and he is two scores shy of tying the Big 12 and FBS quarterback single-season mark. Through the air, the Loveland, Colo., product threw for 1,745 yards and 12 touchdowns on 145-of-251 aim and just five interceptions.
Place kicker Anthony Cantele and defensive backs David Garrett and Ty Zimmerman also earned honorable mention selections. Cantele, who earned three Big 12 Special Teams Player of the Week honors, is 17-of-22 on field goals and is 10-of-14 in the 30-49-yard range. He is tied for fifth in school history for field goals made in a season and fifth for field goals attempted in a season. It was the first All-Big 12 selection in Cantele's career.
Garrett earned his first All-Big 12 selection from the league's coaches after earning honorable mention accolades from the Associated Press in 2010. This year, the senior is second on the team with 78 tackles, 4.5 tackles for loss and two interceptions, including one he returned for a touchdown against Kent State.
Zimmerman picked up his second-straight All-Big 12 honor as he was a second-team member last season. The Junction City, Kan., product tallied 57 tackles, including one for a loss, and a pair of interceptions.
KANSAS STATE 2011 ALL-BIG 12 SELECTIONS
Coach of the Year: Bill Snyder
Defensive Newcomer of the Year: Arthur Brown, LB
Offensive Freshman of the Year: Tyler Lockett, WR
First Team:
Clyde Aufner, OL; Ray Kibble, DL; Arthur Brown, LB; Nigel Malone, DB
Second Team:
Zach Hanson, OL; Tyler Lockett, KR/PR; Tysyn Hartman, DB
Honorable Mention:
Clyde Aufner (Offensive Lineman of the Year); Anthony Cantele, PK; David Garrett, DB; Ray Kibble (Defensive Lineman of the Year); Collin Klein, QB (Offensive Player of the Year); Tyler Lockett (Special Teams Player of the Year); Ty Zimmerman, DB