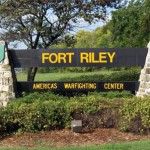 We've been hearing in the national news about soldiers coming back from Iraq–and right here at Fort Riley the last unit from one division is coming home. About 350 soldiers from the 1st Battalion, 5th Field Artillery are returning Tuesday.
This is the last division unit from that battalion to leave Iraq. The group is commanded by Lt. Colonel Keith Casey and command Sgt. Major Gabriel Espinosa  and spent the last seven months in Iraq.
The battalion has quite a history behind it, known as "Hamilton's Own."  The group was formed by Alexander Hamilton during the Revolutionary war.