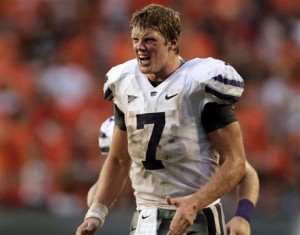 MANHATTAN, Kan. – Quarterback Collin Klein, linebacker Arthur Brown and defensive back Nigel Malone were named Kansas State's 2011 offensive and defensive MVPs, while three players – Anthony Cantele, Tyler Lockett and Jared Loomis – took special teams MVP honors as the Wildcat football program held its annual awards ceremony Sunday night at McCain Auditorium on the K-State campus.
"I would like to express my sincere appreciation and gratitude to everyone involved with this football program, including our coaches, support staff, players and especially their families," head coach Bill Snyder said to those in attendance. "This coveted senior class has demonstrated tremendous leadership and worked extremely hard to pull this team together this season."
Klein, an All-Big 12 pick by both the coaches and the Associated Press, has collected a school-record 26 rushing touchdowns this season – two shy of the Big 12 and FBS quarterback record – while rushing for a K-State quarterback record 1,099 yards. The signal caller has also eclipsed the 1,000-yard barrier through the air with 1,745 yards on 145-of-251 aim, while he has thrown 12 touchdowns and just five interceptions.
Brown, the Big 12's Defensive Newcomer of the Year by both the coaches and the AP, started all 12 games during the regular season for the Wildcats. The Wichita, Kan., product has accumulated 95 tackles, 7.5 tackles for loss, two sacks and an interception that led to a game-winning field goal against then-No. 15 Baylor.
Malone, a second team Walter Camp All-American pick, leads the Big 12 and is tied for third nationally with seven interceptions. A Thorpe Award semifinalist that started all 12 games for the Wildcats, Malone also ranks fourth in the Big 12 and tied for eighth nationally with 16 passes defended, while he has carded 57 tackles. Malone was also named a First Team All-Big 12 selection by the league's coaches and a second-team pick by the Associated Press.
Cantele, who earned three Big 12 Special Teams Player of the Week honors this season, is 17-of-22 on field goals and is 10-of-14 in the 30-49-yard range. The All-Big 12 pick is tied for fifth in school history for field goals made in a season and fifth for field goals attempted in a season.
A first team Walter Camp All-American, Lockett was tops nationally during the regular season with a 35.19-yard kickoff return average, an amazing three yards per return better than the player in second. An All-Big 12 selection by the league's coaches and the Associated Press as well as the Big 12 Offensive Freshman of the Year, Lockett currently ranks first in school history in average ahead of William Powell's 34.6-yard mark last year, and is also tops in Big 12 history ahead of Chris Massey (Oklahoma State), who averaged 34.8 yards per return in 2001.
Loomis was instrumental to the success of K-State's special teams this season as he played on four of six units. He collected nine total tackles and forced a fumble on special teams this season while also playing a pivotal role on the Wildcats' kick return unit that saw Lockett lead the nation in return average.
On the academic side, National Scholar Athlete and Campbell Trophy finalist Tysyn Hartman received the program's Scholar-Athlete award. Hartman, who graduated in 3.5 years with a degree in finance, was a 2011 First Team Academic All-American and also earned Academic All-Big 12 honors four times.
The No. 8 Wildcats (10-2) have enjoyed their best season since 2003 in 2011 and will face No. 6 Arkansas (10-2) in the 2012 AT&T Cotton Bowl Classic on January 6. Kickoff is set for 7 p.m. at Cowboys Stadium in Arlington, Texas.
2011 K-State Football Team Awards 
Overachiever Award (top freshman in strength and conditioning) – Kyle Klein (TE)
Red Raider Award (top contribution on scout squad) – Sam Johnson (QB)
Scholar-Athlete Award – Tysyn Hartman (DB)
Purple Pride Award (walk-on displaying quality play, leadership and work ethic) – Nick Puetz (OL)
Ken Ochs Courage Award – Zach Hanson (OL)
Kevin Saunders (Never Give Up) Award – Brian Hertzog (LB)
Nancy Bennett Memorial Award (representing fight, spirit and positive nature) – Tre Walker (LB)
Anthony A. Bates Memorial Award (promoting team unity and unselfishness) – Emmanuel Lamur (LB)
Joan Friederich Award (representing team concept through unselfishness and commitment) – B.J. Finney (OL)
Jim "Shorty" Kleinau Award (representing loyalty, hard work and commitment) – Tysyn Hartman (DB) and Ty Zimmerman (DB)
Coaches Appreciation Award – Scott Eilert
Most Improved Defense Player – Jordan Voelker (DE)
Most Improved Offensive Player – Chris Harper (WR) and John Hubert (RB)
Outstanding Offensive Lineman – Clyde Aufner
Defensive Front Seven Defensive Player of the Year – Ray Kibble (DT)
Special Teams Player of the Year – Anthony Cantele (PK), Tyler Lockett (KR), Jared Loomis (LB)
Most Valuable Player-Defense – Arthur Brown (LB), Nigel Malone (DB)
Most Valuable Player-Offense – Collin Klein (QB)
(Story courtesy of KStateSports.com)