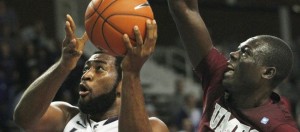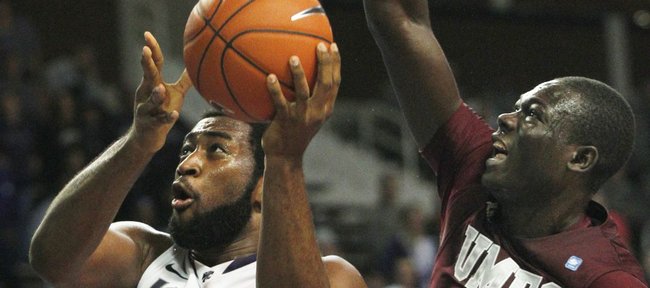 MANHATTAN, Kan. – Freshman Thomas Gipson was named the Phillips 66 Big 12 Rookie of the Week on Monday after posting double-doubles in overtime games with West Virginia and North Florida last week.
A 6-foot-7, 275-pound rookie, Gipson becomes the first K-State true freshman to earn the weekly honor since Michael Beasley collected the award for the eighth and final time on March 3, 2008.  The Rookie honor is the 26th by a Wildcat since 1998-99 and the 11th by a freshman during the Frank Martin era.
A native of Cedar Hill, Texas, Gipson averaged 19.0 points on 53.8 percent shooting (14-of-26) in helping K-State split two overtime games with 11.0 rebounds in 32.5 minutes per game.  The squad lost 85-80 in double-overtime to former head coach Bob Huggins and future Big 12 foe West Virginia on Thursday in the Wichita Wildcat Classic at INTRUST Bank Arena before posting a 79-68 overtime victory over North Florida at home on Sunday.  He recorded double-doubles in each contest, becoming the first freshman since Beasley to do it in consecutive games, and has posted double-doubles in three of the last four games.
Gipson began the week with a 15-point, 10-rebound effort in the double-overtime loss to the Mountaineers.  He went 4-of-8 from the field and connected on 7-of-8 from the free throw line in 28 minutes.  He led the Wildcats in rebounding, while he was one of three players in double-figure points.
Gipson tallied his first career 20-point game against North Florida on Sunday, scoring 23 points on 10-of-18 field goals to go with a career-high 12 rebounds and two steals in a career-best 37 minutes.  He nearly posted a double-double in the first half with 10 points and seven rebounds.
Gipson is pacing the team in both scoring (14.0 ppg.) and rebounding (8.1) through the first seven games of the season on 25.6 minutes per game, while connecting on 52.1 percent from the field.  He is the first freshman since Beasley to start the first seven games of the season.  Since a two-point, zero-rebound effort in the opener with Charleston Southern on Nov. 11, he has proved to be the team's best player, averaging 16.0 points on 52.9 percent shooting with 9.5 rebounds in 27.2 minutes per game.
Kansas State (6-1) will take the week off for final semester exams before returning to the court on Saturday, Dec. 17 at 9 p.m. CT against No. 16 Alabama (8-2) in the Hy-Vee Wildcat Classic at the Sprint Center in Kansas City, Mo.
(Story courtesy of KStateSports.com)