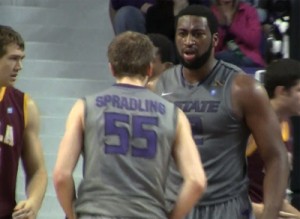 MANHATTAN, Kan. – Freshman Thomas Gipson continued his strong play this season as he recorded his first career double-double as the Wildcats beat George Washington 69-56 Thursday night and move to 4-0 on the year. Gipson grabbed a career high 13 rebounds and added 17 points. This is the third consecutive game Gipson has the Wildcats in scoring.
Senior Jamar Samuels also contributed a double-double on the night with 10 points and 10 rebounds. It was his sixth career double-double. K-State is now 6-0 when Samuels pounds the glass and pulls down one.
Clinging to a three-point halftime lead, K-State used a 17-3 run capped by a Will Spradling three-pointer, giving the Wildcats a 54-38 lead. Spradling scored 12 of his 14 points in the second half.
K-State took advantage of 17 offensive rebounds and outscored the Colonials 25-8 in second chance points throughout the contest.
After shooting 34.3% in the first half, the Wildcats found more consistency in the second half, knocking down 41.4% and finishing the night shooting 37.5%. The team was able to capitalize and make 24 field goals.
For a complete wrap-up of Thursday night's game, visit thegamedaynetwork.com
K-State travels to Blacksburg, Va. on December 4 to face Virginia Tech at Cassell Coliseum. The game can be seen live on ESPNU at 4:30 p.m. CT.