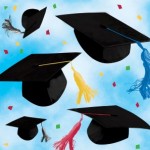 Almost time for pomp and circumstance again, with about 1,655  students graduating from Kansas State next week. Ceremonies are set for Friday and Saturday next week, on the university campuses in Manhattan and Salina.
More than 1,200 bachelor's degrees, 335 master's degrees, about 70 doctoral degrees, and more than 20 associate degrees will be awarded. 70 students are candidates to receive multiple degrees and nearly 100 distance students are candidates for graduation.
Commencement ceremonies December ninth include the Graduate school at one in Bramlage Coliseum, with University Distinguished professor of English Elizabeth Dodd to speak. The Salina campus ceremony will be December ninth at seven p.m. in the student life center.
Ceremonies Saturday the 10th will include the college of Arts and sciences at nine, education at 10:30, Business at noon, agriculture at 1:30 and Engineering at three–all at Bramlage Coliseum. The college of Human ecology will be at nine Saturday in McCain auditorium.
Commissioning ceremonies for K-State's Army and Air Force ROTC units will take place, with the Army commissioning six officers during its ceremony at 10 Friday morning and the Air Force with eight officers at two Friday, with both commissionings at Forum Hall.