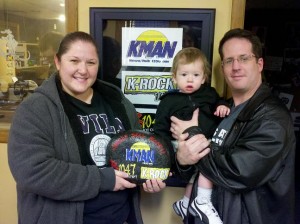 Congratulations to Nick Buckley, Natalie Marquez, and their son Ethan for locating the G. Thomas Jewelers/Manhattan Running Company Jingle Bell Rock!
The Jingle Bell Rock was located under a bridge near Warner Park just off Shuss Road around Target! We'll have more on the clues and what they meant coming up next week on www.1350kman.com!
Again congratulations to Nick, Natalie, and Ethan on finding the Jingle Bell Rock!