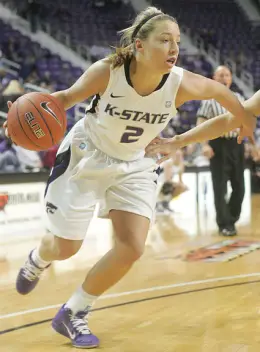 LAS VEGAS, Nev. – With a sterling performance in the first half and a combined 47 points fromBrittany Chambers and Jalana Childs, Kansas State distanced itself from Northwestern to register a 64-45 win at the BTI Invitational for its fifth straight victory.
Kansas State (8-2) entered the contest ranked eighth in the nation in scoring defense (49.3 ppg) and seventh in the country in field goal percentage defense (.312). The Wildcats held Northwestern to 26 points below their season average of 71 points. This was the seventh time in 10 games that K-State has held an opponent to 49-points or less.
K-State was led by Chambers who finished with a season-high 29 points on 9-of-18 shooting including a career-high 8-of-14 from beyond the arc. The 29-point effort was her highest since registering a career-high 35 points against Texas A&M last season.
Childs gave Kansas State a solid presence in the post with 18 points on 8-of-18 shooting and six rebounds. Aiding Childs in the post was senior forward Branshea Brown with a career-high 13 rebounds.
Northwestern (9-2) was paced by freshman Morgan Jones with 20 points on 6-of-19 shooting, while Kendall Hackney added 14 points and seven rebounds.
K-State jumped out to a fast start with an 11-0 lead to open the contest forcing Northwestern to call an early timeout. Kansas State continued its early assault by extending its lead to 20-5 with 11:05 to play on Childs' fourth basket of the half. Childs finished the first half with 12 points.
Kansas State continued to pour on the points in the first half, as the Wildcats used a 12-0 run to hold a 34-7 lead with 3:42 remaining. During the run, K-State held Northwestern without a field goal for seven minutes.
K-State closed out a stellar opening half with a deep three from Chambers, who recorded four connections from beyond the arc in the opening stanza and 15 points, as the Wildcats held a 39-14 lead. The Wildcats finished the first half by shooting a sweltering 51.5 percent from the field and held Northwestern to their lowest field goal percentage for a half this season at 19.2.
Northwestern cut into K-State's lead to begin the second half with a 12-3 run, capped by a Jones steal and layup to force a Kansas State timeout holding a 42-26 lead. Following the timeout, K-State dashed back out to a 22-point lead on the strength of a 12-6 run capped by a Childs jumper with 6:10 remaining.
K-State finished the night by shooting 25-of-61 from the field, including 8-of-19 from beyond the arc. The Wildcats dominated Northwestern on the glass with a 45-33 advantage which resulted in a 15-2 edge in second chance points.
Kansas State will conclude action at the BTI Invitational on Tuesday night, as the Wildcats face UNLV. You can listen to that game on Sports Radio 1350. Pregame coverage from the K-State Sports Network starts at 9:00 p.m. Tip-0ff at 9:30 p.m.
(Story courtesy of KStateSports.com)