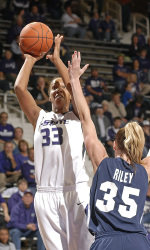 (Courtesy K-State Sports Information)
K-State built a 12-point second half advantage at Marist on Thursday night and needed every point to hold off the Red Foxes, 57-56, at a near sold out McCann Arena.  The Wildcats concluded its non-conference schedule with a 9-3 mark.  K-State was led on Thursday night by the trio of Jalana Childs, Brittany Chambers and Tasha Dickey. Childs tied for game-high honors with 21 points and hauled in a game-high nine rebounds.  Chambers registered 15 points, six rebounds and three assists. Dickey finished the night with 13 points, six rebounds and three steals.  Marist (5-6) was paced by preseason MAAC Player of the Year recipient Corielle Yarde with 21 points.
K-State will return to Manhattan to open Big 12 action on Wednesday against defending national champion and #9 Texas A&M. Tipoff at Bramlage Coliseum will be 5:30pm and coverage from the K-State Sports Network begins at 5:00 on SportsRadio 1350.