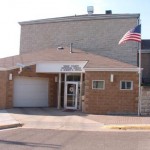 A law enforcement pursuit in Geary county Thursday evening led to the injury of a Junction City man.  Christopher Morgan, 35, was injured when the '93 Audi passenger car he was driving was pursued by Geary County sheriff's officers while southbound on highway 77 just before eight p.m.
According to the Kansas Highway Patrol Morgan's vehicle made contact with stop sticks, which caused him to lose control. The vehicle entered the east ditch and struck a large tree. Morgan was taken to Geary community hospital
KMAN news has contacted the Geary county sheriff's department and was told no further details could be released at this time.