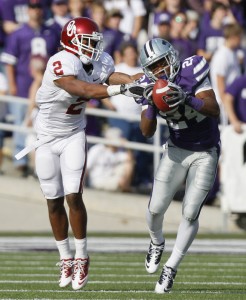 MANHATTAN, Kan. – Kansas State's Tyler Lockett and Nigel Malone were named to the 2011 Walter Camp All-America Team in a vote of the nation's head coaches and sports information directors, the Walter Camp Foundation announced during the Home Depot College Football Awards Show Thursday night.
Lockett was named the first team kickoff returner, while Malone was a second team cornerback. It was the first All-America honor for both players, while they became the seventh and eighth players in school history to be named a Walter Camp All-American. Lockett is the first kick returner in school history named to the team, while Malone is the third defensive back as he joins Chris Canty (1996) and Terence Newman (2002).
A native of Tulsa, Okla., Lockett was tops nationally during the regular season with a 35.19-yard kickoff return average, an amazing three yards per return better than the player in second. An All-Big 12 selection by the league's coaches and the Associated Press, Lockett currently ranks first in school history in average ahead of William Powell's 34.6-yard mark last year, and is also tops in Big 12 history ahead of Chris Massey (Oklahoma State), who averaged 34.8 yards per return in 2001.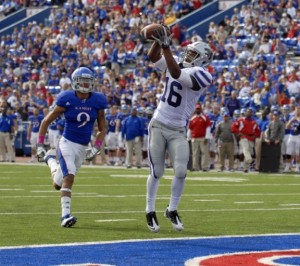 Lockett took kickoffs back for touchdowns in consecutive weeks – at Texas Tech and at Kansas – to become the first player in school history to accomplish the feat. He is one of nine players nationally this season to return two or more kickoffs for scores this year.
In addition to his kickoff returns, Lockett has hauled in 18 passes for 246 yards and three touchdowns, the most touchdown receptions by a freshman since his uncle, Aaron, had six in 1998.
Malone, a junior-college transfer from City College of San Francisco, leads the Big 12 and is tied for third nationally with seven interceptions. A Thorpe Award semifinalist that started all 12 games for the Wildcats, Malone also ranks fourth in the Big 12 and tied for eighth nationally with 16 passes defended, while he has carded 57 tackles. Malone was also named a First Team All-Big 12 selection by the league's coaches and a second-team pick by the Associated Press.