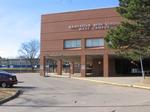 Manhattan High School west campus had a lockout Wednesday afternoon, at the direction of the Riley County Police department. Principal Terry McCarty indicates according to police, a situation was taking place at a residence on Westrwood–the road that leads south of MHS-West.
Riley County Police Captain Kurt Moldrup confirmed police were searching a residence in the 200 block of Westwood in connection with suspicious activity.
Teachers and students were advised of the lockout situation just before 2:30, with all people remaining inside their classrooms and inside the building until the "All Clear" announcement was given. About 20 minutes later RCPD provided communication for such an announcement.