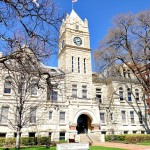 The case of a Manhattan man accused of second degree murder had a motion's hearing Thursday afternoon.
Justin Taylor, 24,  is accused of the second degree murder of Kevin Lynn Cockrum.  Taylor was present at the Riley county courtroom as prosecution and defense attorneys went over several motions concerning his upcoming murder trial set to begin on January 31st.
The bulk of the arguments centered around suppression of statements obtained from a Riley county police interview with Taylor on August 14th.
Defense Attorney Larry McRell argued the interview did not meet the standards required for admission into court because Taylor never fully understood his Miranda rights, and wasn't in a condition to make a decision to give statements to RCPD.
McRell said this was due to a number of factors including past mental and physical trauma, and possibly being under the influence of alcohol.
After hearing arguments, Riley County District Court  Judge Paul Miller determined that Taylor was able to understand the Miranda rights, and wasn't under duress during questioning.  Judge Miller denied the motion to suppress the interview.