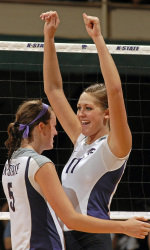 HONOLULU, Hawaii – Kansas State middle blocker Kaitlynn Pelger is having one of the best seasons in school history as a sophomore and she continues to receive recognition for her work on the court. The sophomore already has been named All-Big 12 First Team and on Tuesday she was named to the AVCA Central All-Region First Team on Tuesday as voted by the coaches.
By making the first team, Pelger is eligible for the AVCA All-America Team. The last time K-State had an All-American was 2008 when Nataly Korobkova was named to the third team. This is Pelger's first AVCA All-Region honor and the 22nd for the Wildcats. It marks the seventh time a Wildcat has been named to the All-Region First Team.
The Central All-Region Team looks like a who's who in the Big 12 Conference as 12 of the 14 players on the first team hail from the league. Texas has three players on the list with Rachael Adams, Haley Eckerman and Bailey Webster making the cut. Iowa State also had three players led by Jamie Straube's second selection. Carly Jenson and Alison Landwehr join Straube. Oklahoma's Brianne Barker earns her second All-Region honor, and Suzy Boulavsky gets her first nod for the Sooners. Texas A&M has Kelsey Black and Lindsey on the team, and Missouri setter Molly Kreklow rounds out the Big 12 players on the first team.
Northern Iowa's Krista DeGeest and Bre Payton complete the first team. Four more Big 12 members were named honorable mention. Texas head coach Jerritt Elliott was named AVCA Central Region Coach of the Year as well.
Pelger and the Wildcats take on the No. 15 overall seed Pepperdine in the Regional Semifinals of the NCAA Tournament on Friday at 9 p.m. central time from the Stan Sheriff Center in Honolulu. The match can seen be on espn3.com. Rob Voelker will have the K-State radio call on 1350 KMAN as well.