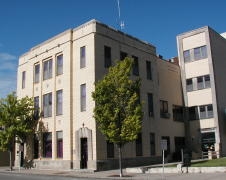 Pawnee Mental Health Services recently celebrated a big anniversary, but the group  has lost some headway due to budget cut-backs in recent years. That, according to the group's executive Director Robbin Cole, who addressed Riley County commissioners Monday morning. Cole adds while Pawnee has grown in the more than five decades it's been around, its budget and personnel numbers are down the last four years.
Cole also expressed concern about Medicaid changes anticipated in the next year, which she says will impact other health care services as well. And to top it off, there are other changes, with a move of who Pawnee will report to from Social and Rehabilitation services to the Department of Aging.
Meanwhile, if you live in the area of Purcell Road, just off of Highway 24, expect some construction issues the next few weeks. Riley County Public Works Director Leon Hobson Monday confirmed work will be going on to set transmission line structures for Westar. Hobson says the road will be closed for each location involved that is being worked on for one to two days until December 22nd. An approximate 300 foot segment will be closed for each of the poles that will be constructed.