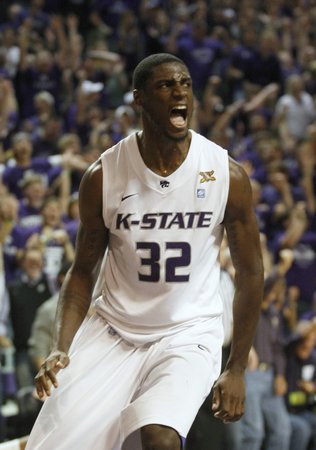 (Courtesy K-State Sports Information)
Senior Jamar Samuels was named the Phillips 66 Big 12 Player of the Week on Monday after averaging a double-double in wins over George Washington and Virginia Tech last week.
Samuels, who earned the weekly honor for the first time in his career, helped the Wildcats move to 5-0 for the first time since 2008-09 with wins over the Colonials (69-56) on Dec. 1 and the Hokies (69-61) on Dec. 4.  He averaged 13.5 points on 64.7 percent shooting (11-of-17), including 50 percent (1-of-2) from 3-point range, in the two wins with 12.0 rebounds in 27.0 minutes per game.  He recorded double-doubles in each contest, marking the first time in his career he has done that in back-to-back games, and raised his career total to seven.
Samuels began the week with a 10-point, 10-rebound effort in the win over George Washington.  He went 4-of-9 from the field, including 1-of-2 from beyond the arc, against the Colonials to go with one assist and one block in 26 minutes.  He was one of three players to grab double-digit rebounds in the contest.
Playing in front of numerous friends and family in the Wildcats' first road game of the season, Samuels was sensational in the clutch against Virginia Tech.  He snagged a game-high 17 points on 7-of-8 field goals to go with a career-tying 14 rebounds in 28 minutes of action.  After struggling in the first half due to foul problems, he registered a double-double in the second half alone with 15 points on 6-of-6 shooting and 13 rebounds.  He was key in an early 12-2 run to start the second half, scoring the team's first six points after halftime.  The Virginia Tech win was the 100th of head coach Frank Martin's career, while it was the first in three tries in an ACC arena.
Samuels is nearing a milestone, as he is just two points away from becoming the 23rd player in school history to eclipse the 1,000-point barrier.  He is one of four Wildcats averaging in double figures with team-highs in both scoring (13.0 ppg.) and rebounding (9.0 rpg.) in 26.3 minutes per game.
Kansas State (5-0) will play former head coach Bob Huggins and future Big 12 foe West Virginia (4-2) on Thursday at 8 p.m. CT in the Wichita Wildcat Classic at INTRUST Bank Arena.  The game will be televised nationally on ESPN2.