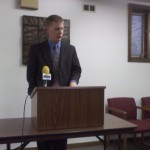 While admitting it's not a perfect system, Shawn Sullivan, the Secretary of the Kansas Department of Aging described it as the best they could come up with, when addressing Pawnee Mental Health officials in Manhattan Tuesday. Secretary Sullivan outlined the new proposed KanCare, or Kansas Integrated Care program, supported by the governor, and to be presented to state legislators. He talked about long-term increases in Medicaid spending due to an increase in enrollment and spending per person.
Sullivan admitted in the system he currently works in there's not any uniform outcome or measure where payment is based on how well a person is taken care of…
Sullivan also talked about consumers trying to navigate a complex system of medicaid and medicare benefits, physicians, hospitals, providers, nursing homes, home health all on their own.
Sullivan says currently we are providing hundreds of providers, nursing homes,hospitals, home health care providers, and case management type agencies and systems to take care of thousands of consumers a day.
Secretary Sullivan assured Pawnee Mental health officials they'll still have a job to do, with proposed changes and reorganization plans…
While not perfect, the plan is to go a simplified administrative structure and a Kansas Integrated Care system that will be called KanCare. The proposal is coming from the Governor but will need state legislative support before going to bids for providers.