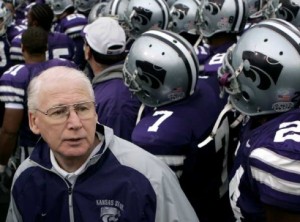 MANHATTAN, Kan. – Kansas State head coach Bill Snyder was named the recipient of the 2011 Woody Hayes Award, which is presented to the College Football Coach of the Year by the Touchdown Club of Columbus.
Additionally, Snyder was named a finalist for the Eddie Robinson Award, given to the Coach of the Year by the Football Writers Association of America (FWAA). Snyder joined Mike Gundy (Oklahoma State), Brady Hoke (Michigan), Les Miles (LSU) and Dabo Sweeney (Clemson) as finalists for the award.
The Touchdown Club of Columbus unanimously selected Snyder for the Woody Hayes Awards based upon the Wildcats 10-2 season and No. 8 ranking in the final BCS ranking, in addition to his integrity to the game and student-athletes.
This season marks the fourth time that Snyder has been named a finalist for the FWAA top coaching honor. This year's winner will be announced Dec. 15 after balloting by the entire FWAA membership. The FWAA and the Fiesta Bowl will host a special reception on Sunday, Jan. 8, 2012, in New Orleans to honor the winner and present him with the trophy, a bust of Eddie Robinson.
Snyder, currently the 11th-winningest active coach among FBS schools, led Kansas State a second-place Big 12 finish after being picked to eighth in the Big 12 preseason race. The Wildcats, which headed into the 2011 season with nine first-year starters, have won a nation-leading eight games this season by seven points or less and 10 games in a season for the first time since 2003.
Named the 32nd head football coach at Kansas State on Nov. 30, 1988, and again as the 34th on Nov. 24, 2008, Snyder has amassed a 159-82-1 (.659) record during his 20-year tenure with the Wildcats, including an 89-64-1 (.581) mark in Big 8/12 games, and currently ranks fourth among active coaches with 150 or more wins at FBS schools since 1990.
A two-time national coach of the year selection, Snyder's 159 victories are more than triple the man in second place on K-State's all-time coaching victories list, while the legendary head coach has led the program to 13 bowl games, which included 11 straight from 1993-2003 and back-to-back appearances in 2010 and 2011.