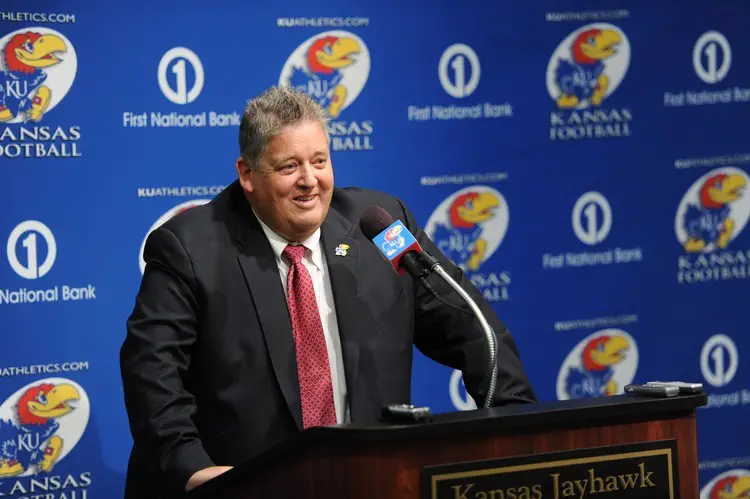 KANSAS CITY, Kan. (AP)   Charlie Weis is guaranteed $2.5 million annually over the course of his five-year deal with Kansas, along with incentives that could push the total over $3 million.
A copy of the contract, which is dated Dec. 9, was obtained Wednesday by The Associated Press.   Weis' base salary is $230,000, though he is also in line for an additional $2.27 million in "professional services rendered," which includes educational, promotional and public relations duties.
Last February, Weis signed a three-year deal worth $2.495 million to be Florida's offensive coordinator. He was paid $765,000 in 2011.  The former Notre Dame coach agreed to take over the Jayhawks last week following the firing of Turner Gill, who was 5-19 in two seasons. Like Gill, who will be paid the nearly $6 million left on his contract, Weis will be paid in full if he is fired before the five-year term is complete.
Weis' contract includes a $50,000 bonus for winning five Big 12 games, plus $10,000 for each additional game, along with $100,000 for a conference championship, $50,000 for appearing in a bowl game and $25,000 for winning a bowl game. He'll make $100,000 for appearing in a BCS bowl game and $50,000 for winning it, and double those totals if it's the national title game.  Weis will also make $50,000 if he's voted the Big 12 coach of the year and $75,000 if he's voted AP national coach of the year.
In light of the issues at schools across the country, there are severe penalty clauses dealing with NCAA and Big 12 infractions. Among them is an agreement for Weis to indemnify the school for any attorney's fees or expenses should the program be placed on probation "due to a serious, intentional, or significant or repetitive violation of NCAA rules and regulations."  Weis can be terminated with cause if he's convicted of a serious crime, fails to report NCAA violations, or makes public or private comments that disparage the school and its personnel.
Weis has a buy-out clause in his contract that guarantees the school $2.5 million if he leaves before Dec. 31, 2014, and $1.5 million if he leaves before Dec. 31, 2016.  Along with the guaranteed portion of his contract, Weis also receives the use of two vehicles, a term life insurance policy in the amount of $2 million, travel expenses for his wife and two children to attend road football games, nearly all revenue from summer camps and clinics, 50 tickets to home football games and six tickets to men's and women's basketball games, the use of a suite at Memorial Stadium, and a membership at Lawrence Country Club that includes all business-related expenses.
The contract also allocates $2.1 million for Weis to hire a coaching staff.  He already has announced that running backs coach Reggie Mitchell will be retained from Gill's staff. Ron Powlus, who served as his quarterbacks coach at Notre Dame, has been hired in the same role at Kansas, and Tim Grunhard will coach the offensive line after spending 11 seasons with the Kansas City Chiefs and the past few years coaching Bishop Miege High School in suburban Kansas City.