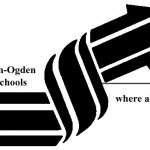 The Manhattan – Ogden school board had a lot to cover during their regular business meeting Wednesday night.
The board started early with construction as a bid was presented to the board concerning asbestos abatement.  There were also reports given on how the projects are progressing.
Dr. Bob Shannon then presented his reports to the board, which is where Governor Brownback's plan for Career and Technical Education programs in Kansas was discussed.  Part of the plan states that "funding will no longer be provided for those high school programs of study that are also available in a post secondary institution within 30 miles of the high school".  More information concerning the plan will be given as soon as a draft has been drafted and presented before the Legislature for debate.
The redistricting committee brought before the board a recommendation of the Q4 Map.  There were some concerns raised by members of the community.  The board unanimously passed the action 1 item.  The redistricting issue will be brought back at the February 1, 2012 meeting.
Manhattan high school principal Terry McCarty also gave a presentation about the advisory time at the high school.  The board passed the action 1 item unanimously and asked for data to be brought back before the board at a later date.