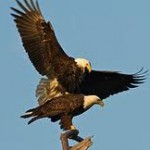 Bald Eagles were a hot topic at Tuttle Creek Lake this past weekend as the US Army Corps of Engineers hosted its annual "Eagle Day".
Patrons were treated to a presentation by Wildlife  Biologist Steve Walhe. Walhe discussed the nesting habits of eagles to the patrons who attended. The experience of informing the public has always been gratifying, says Walhe.
Attendees also heard from Vanessa Avara of the Milford Nature Center, who brought a number of raptors for the public to see. Participants  then had the chance to view several birds of prey says Steve Prockish of the US Army Corps of Engineers, with the event was capped off by a bus tour of Tuttle Creek Lake and bird spotting.
If you missed last Saturday's Eagle Day, there's another one coming up this weekend at Milford Lake. For additional information, call (785) 238 – 5714.