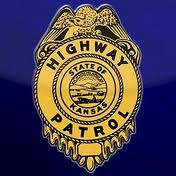 A 67-year-old Junction city man died in an accident on I-70 this past weekend.
Donald Nelson was driving westbound near milepost 322, 11.5  miles southeast of Manhattan, when his vehicle slid on ice, went off the roadway, into a ditch, and overturned.
A passenger,  Lois Nelson, 63,  also of Junction City was taken to Stormont Vail, where she was listed in serious condition.
The Kansas Highway Patrol reports the accident occurred shortly after 5:15 a.m. Sunday.
No other major accidents were reported in Pottawatomie or Riley county Monday morning, since the freezing drizzle and a bit of snow came down–although there were reports of some slick spots.