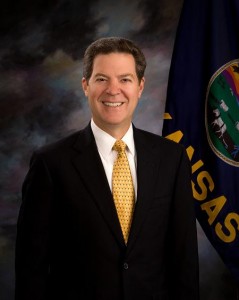 Governor Sam Brownback will be making a stop in Manhattan in the very near future.
Brownback will be a guest at the bi-monthly Riley County Republican Breakfast, Feb. 4. The breakfast is at 9:00 that Saturday morning at the Holiday Inn, on Campus. It is a free gourmet breakfast sponsored by Colin Noble of the Holiday Inn, Charles and Wilson Insurance Company, Steven W. Graber PA, and the Trust Company of Manhattan. All people are welcome and encouraged to come.
After Governor Brownback speaks, local upcoming Republican events will be discussed such as the Presidential Caucus to be held on March 10th. It's  hoped the new representative for the 67th district, yet to be named,  will also say a few words.
Plans are for a meeting this coming Monday night to select a person to fill the remainder of Representative Susan Mosier's term.