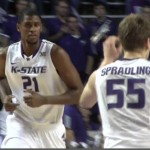 MANHATTAN, Kan. – Junior forward Jordan Henriquez has been suspended indefinitely for conduct detrimental to the team, head coach Frank Martin announced Thursday.
"Jordan has to understand that it is a privilege to be a member of this basketball team," Martin said. "Hopefully, the time away will help him understand that there are consequences to our actions and make him a stronger player."
Martin said that he and Henriquez will meet sometime next week and discuss his status. In the meantime, Henriquez will not practice with the 25th-ranked Wildcats.
The 6-foot-11 Henriquez had two points and two rebounds in 8 minutes in Kansas State's 84-80 victory over Texas on Wednesday night.
Henriquez is junior from Port Chester, N.Y., who has been averaging 7.1 points and 5.1 rebounds per game this season. He has appeared in all 17 games for the Wildcats this season with six starts.