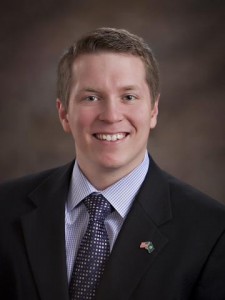 After coming in just under 200 votes shy of defeating Sydney Carlin in 2010's 66th District State Representative race, Lee Modesitt is back for more in 2012. He says, being a native Kansan, he understands the challenges facing the Sunflower State.
"Having gotten a degree in political science, I understand the political process," he told KMAN News. "I interned in the legislature and saw the inner-workings that way. And my wife and I are a hard working family and we understand how family budgets work and I think that's how government budgets need to work as well."
Modesitt says he sees one of the big issues facing Topeka at the moment being the income tax.
"There's several different ways to go about doing it," he said. "But we need to look into reducing or eliminating the income tax. And I think that makes good, old-fashioned common sense. I believe in rewarding for hard work. I don't think you should be punished for working more and producing."
In 2010, Modesitt lost to Rep. Sydney Carlin by a vote of 2,629 to 2,443.  He says he and his wife had a lengthy discussion about trying again, and decided the values they share needed to be represented again.
Carlin has not yet filed for re-election. The deadline to do so is June 10th.