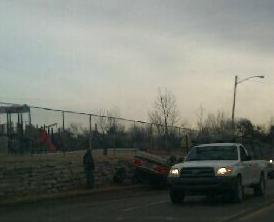 A roll over accident has sent one person to the hospital and halted traffic on Anderson Avenue.
RCPD Lieutenant Josh Kyle reports the wreck occurred around 9:04 A.M. this morning on the corner of Lee Street and Anderson Avenue, near Lee Elementary,  and involved multiple vehicles.  Kyle says a crosswalk light was damaged, and there was contact with a fixed object though no further specifics were available at the time.
One person was extracted and transported by EMS and the traffic was still closed off as of 10:00 a.m.
KMAN will have more information as it becomes available.