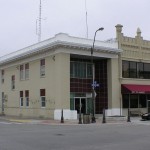 Signs were discussed at length by Wamego City commissioners at their first meeting of the new year Tuesday night.
City Manager Merl Page told commissioners City staff needed to do maintenance on wooden utility poles, but had to clear lots of obscure signs placed by the public and some businesses. He jokingly said there was so much metal in the poles he was surprised they weren't stuck by lightening. In checking the City's manuals, they found there were no stipulations concerning the wooden utility poles, so an agreement was drafted and approved by the Commissioner's.
Page said the agreement specifies the minimum standards for those that wish to place signage on the utility poles, and the entity still needs permission and will be required to sign an agreement before signage can be attached.
In other business, Page asked the Commission to approve an agreement with Fairbanks & Morse for the purchase of equipment to increase the Power Plant output contingent on the City Attorney's approval of the negotiated contract. Approval was given.
Payroll issues tend to get a lot of attention and at Tuesday night's Wamego City commission meeting,  Page said the City went to a merit-based system of increases 5 years ago, but due to budget constraints several years ago they changed the system to meet the budget. He also pointed out the City still has longevity increases included in the original plan. With this review, Page said the City is now getting back to the merit-based system, and employees need to achieve a certain score level to get a merit increase, with the minimum of 30 cents for full-time and 19 cents for part-time.
In other business, the Commissioner's approved Director of Operations Mac Campbell as the City's designated voting delegate at the International Code Conference (ICC). Campbell said the ICC drafts and writes all the different codes used in cities.
Page announced that Position #1 Commissioner post is expiring in April and anyone interested in filing needs to do so by January 24th. This is the position currently held by Victor Enns.
According to Page, the city sales tax is up 5 percent for the same 12-month period, with County-wide up 9 point 4 percent.