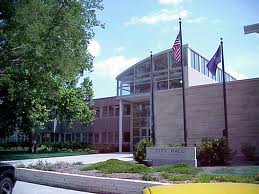 The Social Service funding issue is still a hot one, and Tuesday night's Manhattan City Commission work session tried to alleviate the issue a bit with a discussion on options that could be used to take some strain off of the City's social service funding.
The Commissioners chose to pursue three of the discussed options: a city credit card program, a voluntary purchasing card program for city vendors, and voluntary donations on utility bills.
"What I like about this, to me it's a positive way of approaching (funding social services)," Commissioner Wynn Butler said. "No one ever said 'let's dump social services.' The point was a paradigm shift from the General Fund to something else."
Commissioner John Matta agreed, calling the three options a starting place.
"No, we're not going to start right off the bat and get $400,000," Matta said. "But if we can get these programs going and get them growing incrementally, not only do they have the potential to grow as the years go on, but we can look at adding to them so they don't become that burden."
Mayor Jim Sherow urged caution among the commission, however, in how they framed their decision making, saying they need to consider whether this is the public's responsibility or just those who are willing to pay.
No action was taken beyond the consensus of the three options for city staff to research further.