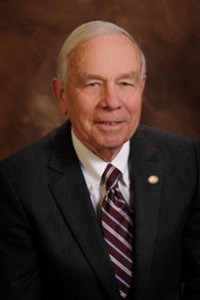 State Senator Roger Reitz of Manhattan has announced he does not plan to make a decision about possibly running for re-election until the end of the legislative session.
Reitz indicates although this fall's elections are still several months away, he has been asked by a number of constituents if he intends to seek re-election to continue to serve the Junction City and Manhattan communities in the Kansas Senate. Reitz says he is still committed to putting his experience and energy to work every day as we face our state's challenges and opportunities in Topeka.
Reitz adds in a prepared statement, there are a host of important issues in front of the legislature that deserve his full attention. He says he continues to enjoy his time working on behalf of Kansans and will make a decision about future elections at the end of the legislative session.
The two men who have declared their intentions to run for Reitz's seat both say his decision will have no bearing on their campaigns. Candidate Bob Reader isn't surprised, though, by Reitz holding off.
"I visited with Senator Reitz just a week or so ago over in Topeka," Reader told KMAN. "And he indicated there were a lot of very important issues facing him in the senate this session. So it doesn't surprise me at all that he's decided to stay focused on his work in Topeka and I, for one, believe that the people of this district are better served by this decision."
However, Candidate Joe Knopp says this move from Reitz could cripple his campaign, should he decide to run.
"I'm not going to read between the lines too much," Knopp said. "I'm going to continue to aggressively campaign for that spot and work to let the people know my views and let the people know I'm interested in serving them."
Primary elections in Kansas will be held Aug. 7. The general election is Nov. 6.