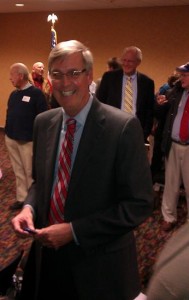 Tom Phillips was voted in as the replacement for Susan Mosier in the 67th District of the Kansas House of Representatives Monday night after winning the majority votes in a replacement convention for the district.
"I'm excited for this opportunity and am looking forward to visiting with the citizens in the 67th District," Phillips told KMAN News.
Riley Republican Party Chairman Barb Van Slyke was pleased with the turn out at the convention.  All 39 precinct representatives were present for the vote, and it was standing room only in the Landon Room at the Holiday Inn near campus.
"It just shows how important it is and how interested in the process the people are," Van Slyke said. "They want to participate, they want to come and have their vote."
Phillips will have to be ratified by Governor Sam Brownback, and is heading to Topeka on Wednesday for a tour with Susan Mosier. Phillips says his first priority as representative will be meeting with his fellow legislators to get up to speed on the issues facing his office in the current legislative session.
Mosier announced she would be stepping down from her office in December to take charge of the Medicaid program in Kansas.  According to the law that left only 21 days to choose her replacement.
Radio Shack owner Frank Beer and Robert Boyd also campaigned for the position.